Authorized Xerox Sales Agent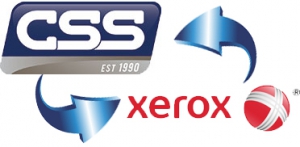 Whether you need a solution for your home-office, or make your living from producing large projects for clients, Computer Sales & services, along with Xerox, has the equipment to meet your needs and exceed your expectations.  Xerox is a leader in the digital printing and duplication market.
CSS believes in offering the best office products in the business. By partnering with leading industry manufacturers, we're able to provide the latest in hardware and software so you can, expect the best products at fair prices.
Xerox: Profile of Quality
Xerox Corporation is one of the world's most recognizable companies and is considered by many to be the leader in document management technology. Xerox provides a broad portfolio of document offerings, include color and black-and-white printing and publishing systems, digital presses, multifunction devices, laser and solid ink network printers, copier machines and fax equipment.
Xerox helps businesses develop electronic document archives, enables employees to efficiently share documents, operate in-house print shops and mailrooms, and build Web-based processes for personalizing mail, invoices and brochures.
In addition, Xerox offers high-quality software, support and supplies such as toner, paper and ink.
Your Local Xerox Partner
Why work with a Xerox Authorized Channel Partner? It's simple. You get the technological prowess of the world's leading document output company backed by support from our team of local professionals.
We offer a full portfolio of Xerox systems and solutions to meet your document production and management needs, giving you direct access to:
The full array of Xerox of systems and solutions
The latest programs and promotions
The Xerox national service network
Discover how our Xerox Partnership can help you succeed.